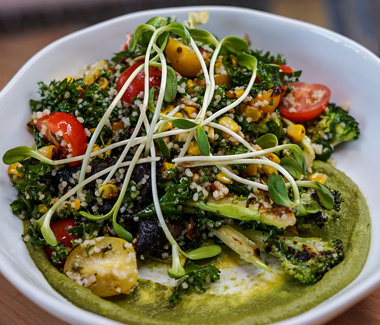 Summer Warm Salad
Cous Cous, Kale, Pea Pureé,
Cherry Tomatoes, Sunflower Seeds, Sunflower Sprouts, Grilled Corn, Portobello Mushrooms Herbed Chimichurri Citrus Vinaigrette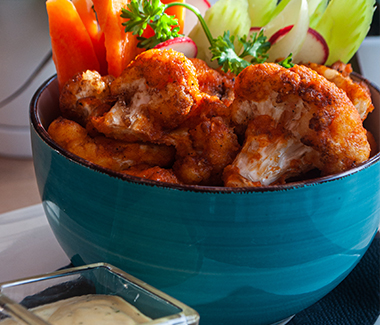 Buffalo Cauliflower
Bleu Cheez Dressing,
Celery,
Carrots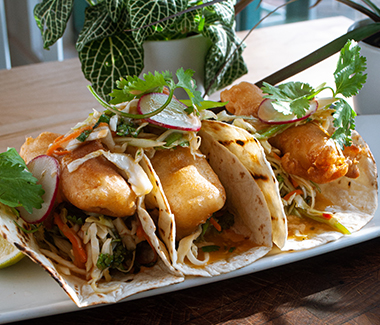 Hearts of Palm Tacos
Tempura Hearts of Palm, Sriracha Aioli, Cabbage Slaw, Sweet Chilli Vinaigrette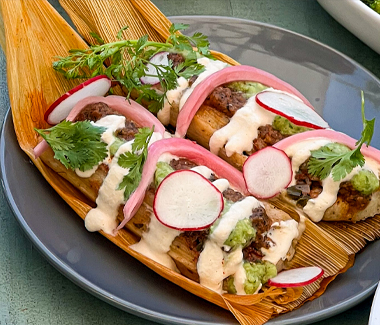 Veggie Tamales
Butternut Squash, Poblano Pepper, Guajillo Sauce, Cashew Crema, Radish, Pickled Onions, Salsa Roja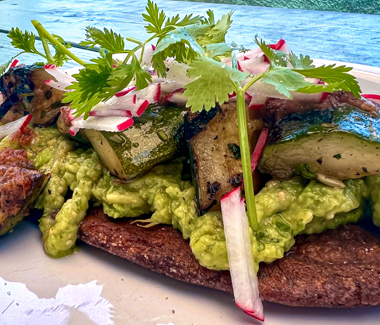 Gordita
Blue Corn Masa, Fava Bean Puree, Guacamole, Salsa Fresca, Summer Squash Pico, Cilantro,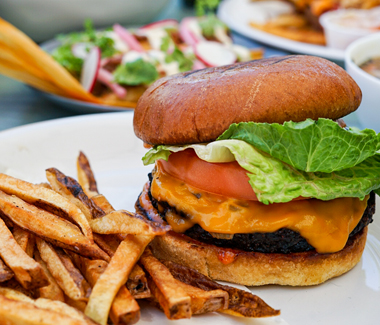 Veggie Burger
Mushroom/ Beets/ Black Rice Patty, Lettuce, Tomato, Caramelized Onion, Sundried Tomato Aioli, Veggie Brioche Bun, Pickles, Chao Cheese,
House Cut Fries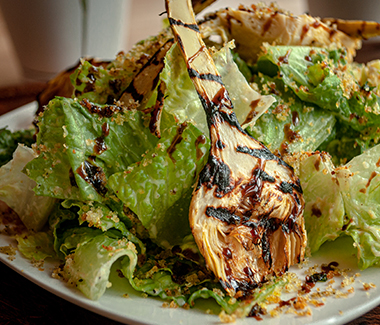 Grilled Artichoke Caesar Salad
Balsamic Glaze, Basil Oil Pangrattato, Almond "Parm"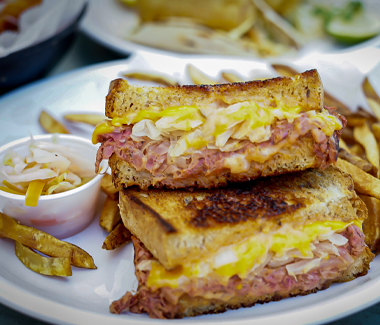 Jackfruit Reuben
Corned Jackfruit, Chao Cheese, 1000 Island Dressing, Sauerkraut, Rye Bread, House Cut Fries,
Pickled Slaw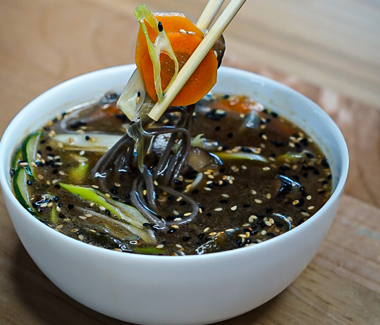 Chef's Soup
Delicious and Nutritious

In House Cooked Soups

Ask Us What's Cooking Today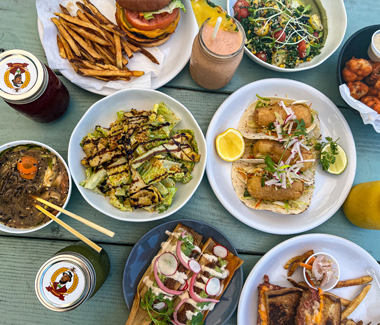 Plant Based Food
For Everyone
Bring your Friends and Family!
Pancakes
Protein Banana-Oat Pancakes with House Made Mixed Berry Compote, Maple Syrup, Almonds, Sliced Banana and Strawberry.
Coconut Chia Pudding
With Almond Butter, House Mixed Berry Compote and Fresh Fruit.
Overnight Oats
Cinamon, Vanilla, Oats
And your choice of up to 3 toppings